Now, the winemaking work begins. This is when we can intervene to shape the wine we desire. Vinification is the human part of grape growing, where we ponder how to proceed. We know what we don't want – a flawless, technology-led wine devoid of qualities and soul. And we know what we do want: a wine that's alive and speaks to us. But how to achieve this? Hands-off vinification? That's hard. But intervene too much and we risk "denaturing" our wine, and erasing the taste of its terroir. As always, we are guided by a sense of moderation, so that the wine we are going to share will strike an ideal
balance between expressiveness, flavour and pleasure.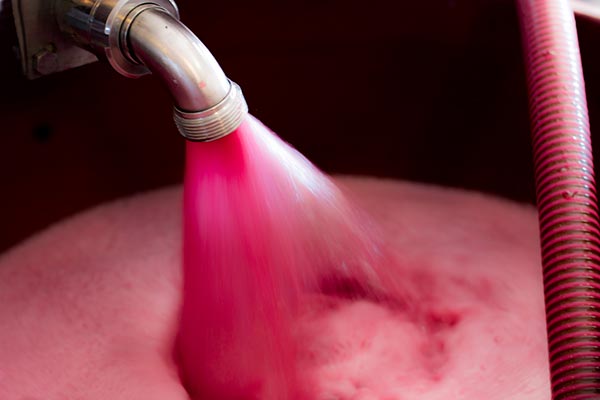 Preparation for our cellarwork begins in the vineyard… Hand picking, which is mandatory in Châteauneuf-du-Pape, allows an initial sorting of the grapes. The pickers observe the grapes in their bucket, discarding the damaged ones and secondary buds. On the tractor, two people receive the buckets and transfer their contents into 50 kg crates, while also continuing to sort the grapes and removing as many leaves and damaged berries as possible.
The crates are then loaded onto the truck and taken swiftly to the cellar. There, the grapes are poured onto the sorting table and undergo a final inspection under Sophie's keen eye. The bunches fall into the destemmer, and the grapes are separated from the stems. We destem practically all the crop. We never add yeast; we prefer to let the native strains do the job!
Fermentation begins more or less promptly, depending on the year. Our equipment (exchangers and refrigerated vats) lets us control the temperature. This is important for successful fermentation: if the temperature is too high, the yeast dies. Then, we do two pumpings-over a day: this means spraying juice from the vat onto the pomace "cap", which is suspended over the must.
By doing this, the grapes impart more extract and colour. We pump-over twice daily at the start, then every two days. Sometimes we perform délestage (transferring the juice to another vat, so that the pomace cap settles at the bottom of the vat; then immediately transferring the juice back on top of it) but generally, pumping-over suffices. We always try to work gently, protecting the fruit, and not hurrying fermentation or extracting too much. Maceration can last up to five weeks. When fermentation is over, Sophie and Vincent taste and approve the wine. We then draw off the free-run wine, and press the pomace to release the press wine. Maturation can then begin: this lasts 18 months for the reds; and about six months for the whites. The wines are mostly matured in concrete vats, but also in 30 hl foudres; and the white wines, in stainless-steel vats and demi-muids.