We can say and do as we please… but everything stems from the vine!
How we tend our vines and work our soil – respecting the plant and its natural cycles, and organically protecting the berries – are the promise of a quality wine. Grapes are the raw material where it all begins.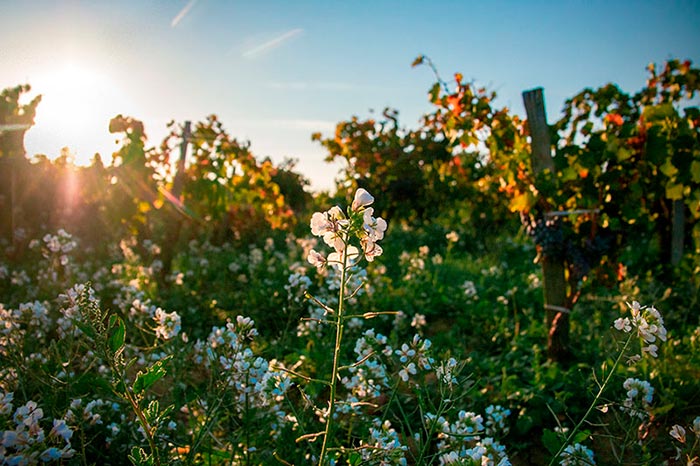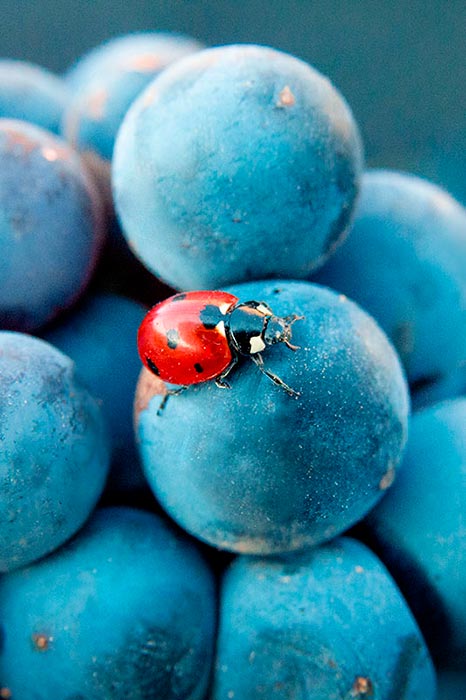 AppellatioN Châteauneuf du pape
The wines of Châteauneuf-du-Pape have long been known for their quality, but in the early 20th century, owing to a lack of protection, they frequently fell victim to fraud.
In 1905 a group of vignerons, including our grandfather Emile Armenier, began working to create protection for their wines and to upgrade their quality criteria. This eventful endeavour concluded in 1933. On 21 November, the court of cassation in Nîmes confirmed the boundaries and conditions for making Châteauneuf-du-Pape wines.
The strictly-drawn production area covers 3,200 ha in the municipalities of Châteauneuf-du-Pape, Bédarrides, Courthézon, Orange and Sorgues.
The maximum yield is 35hl/ha, the minimum alcohol content is 12.5°, and crop sorting by hand is compulsory and inspected. Vignerons can use 13 grape varieties, enabling them to juggle the qualities of each, depending on the location of the vines.

These vignerons' work, their realisation of the quality of our product, their tenacity, and their willpower made it possible to establish these rules, which would underpin all future Appellations d'Origine Contrôlée.
The rules are still in place and subject to inspection…
These efforts were masterfully led by Baron le Roy, to whom our grandfather Emile Armenier, then president of the Châteauneuf-du-Pape vignerons' body, paid tribute in a speech in 1954.
He hailed "this heroic period when there were only a handful of us, but we were driven by the desire to win… we had to fight every day to win round the reluctant, stimulate the hesitant, and give serious arguments to our timid supporters… but alongside you, we gained fresh strength…" At the end of his speech, he asked the mayor to honour the man who had shown expended great energy for Châteauneuf-du-Pape and its wines; and to name a village street after him. Which is how Avenue Baron Le Roy came to be.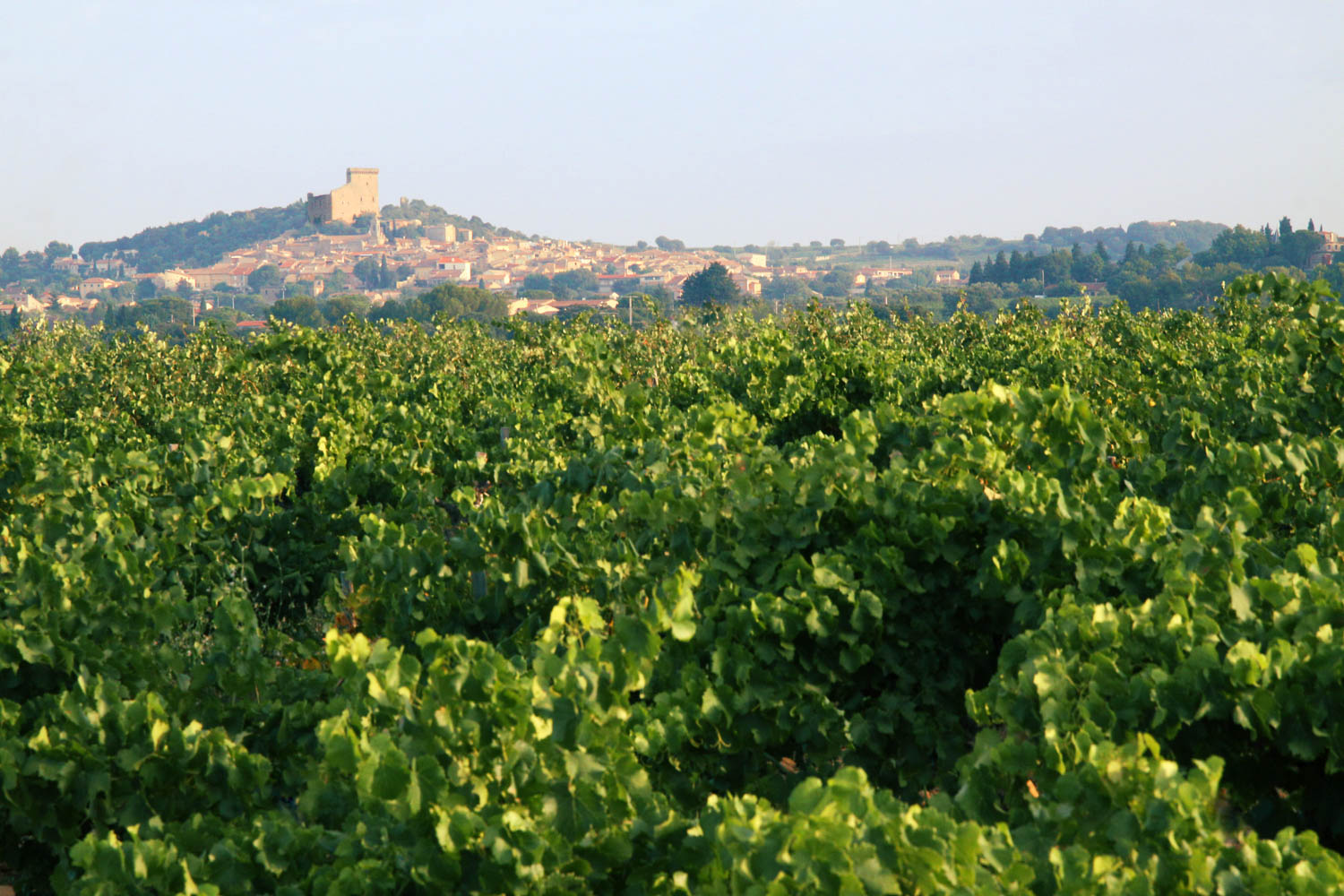 " The combination of the soil of a circumscribed area of vines and its corresponding climate, which gives a specific character to the wine produced by it" – that is terroir as defined by Le Petit Larousse.
The word only exists in the French language.
Terroir is therefore a soil and a climate, but also grape varieties and a vigneron…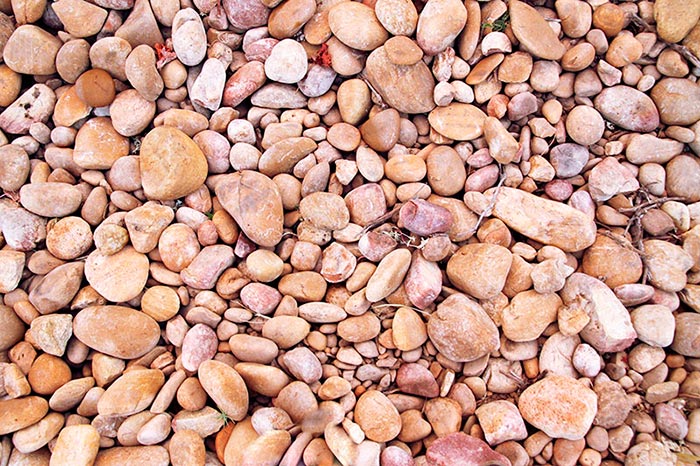 Beaurenard is the land-register name for the locality, but we know it as Pradel. These vines come from the maternal, Coulon/Jouffron side of the family. One of our ancestors, Simon Jouffron, was nicknamed "Pradelle", but we don't know which name inspired the other!
Pradel is only bits of limestone from the Cretaceous Period (Barremian and Bedoulian). The very stony soil always surprises visitors. When planting young vines, some soil must often be added to help the roots find a way through the stony layer to the red clay of the subsoil.
We purchased this 1.6 ha plot of Grenache in 2006. The topsoil is extremely rich in quartzite pebbles (quartz grains cemented by silica) in the western part of Montredon Plateau, a high alluvial terrace of the Rhône.
Where did this district get its name? Perhaps from esquiroù, the Provençal word for squirrel? A "stronghold" of the Armeniers, this 3.77 ha plot is planted with Roussanne, Mourvèdre, and Grenache – the latter contributing to our Vieilles Vignes cuvée. The plot is west of the castle on a slope of Cretaceous limestone and Quartenary colluvium.
This is one of two plots that yield our Vieilles Vignes cuvée. Some 2.3 ha of Grenache planted in 1900 (the oldest date in the vineyard register) – or perhaps a few years earlier, when all our vineyards were planted anew post phylloxera? It is situated on the northern foothill of La Crau Plateau, and its soil, which has very low stone content, consists of Miocene sands and molassic sandstones.
This locality already featured in the register back in 1344. Quartenary colluvium with Rhône-smoothed pebbles: one of the most distinctive soil profiles of Châteauneuf-du-Pape. Three plots of Grenache, Syrah and Cinsault.
Listed in the register in 1344 as "la Galimarde", this locality, in the south of the appellation, has extremely stony soil containing quartzite pebbles and clays. Three of our plots are located there: Marius (36 ares of Syrah); Joly Jehan, named after the captain of the guard of a gate in the ramparts of Avignon (50 ares of Grenache); and Les Gallimardes (nearly 2 ha of Grenache).
The name of this locality perhaps derives from the ability of its stony, clay-rich soil to "tighten" (serrer) after rainfall, making it hard to work… The 1.77 ha plot was replanted in 2017 with Clairette Blanche, Mourvèdre and Grenache.
Beaurenard: 2.50 ha of Grenache on clay, limestone and Cretaceous marls
L'Arnesque: 1.60 ha of Grenache on a pebble-covered plateau
Les Esqueirons: 3.77 ha of Roussanne, Mourvèdre and Grenache on a hillside of Cretaceous limestone and Quarternary colluvium
Charbonnière: 2.30 ha of Grenache on Miocene molassic sands and sandstone, planted in 1900
Les Plagnes: 2.53 ha of Grenache, Syrah, Cinsault on pebbles and Quarternary colluvium
Les Gallimardes: 2.82 ha of Grenache and Syrah on pebbles from the Rhône Valley's lower terrace
Les Serres: 2.56 ha of Grenache, Mourvèdre and Clairette on pebbles from the Rhône Valley's lower terrace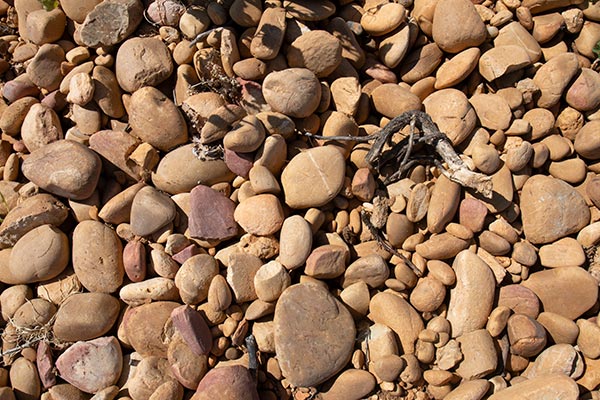 Back in the age of Quarternary glaciations, the River Rhône migrated westward to its current position, forming the high and wide terraces of Châteauneuf-du-Pape.
The alluvial material is stones of Alpine origin comprising sundry limestones, crystalline rocks and siliceous elements (quartzites, quartz sandstone, flint…).
These are typically smoothed (the pebbles known as galets roulés).
The inland seas of the Secondary and Tertiary Eras had previously deposited successive layers of sediment that now form the vineyards' subsoil.

The combined action of receding seas and river erosion sculpted terraces and slopes as far as the river's current bed.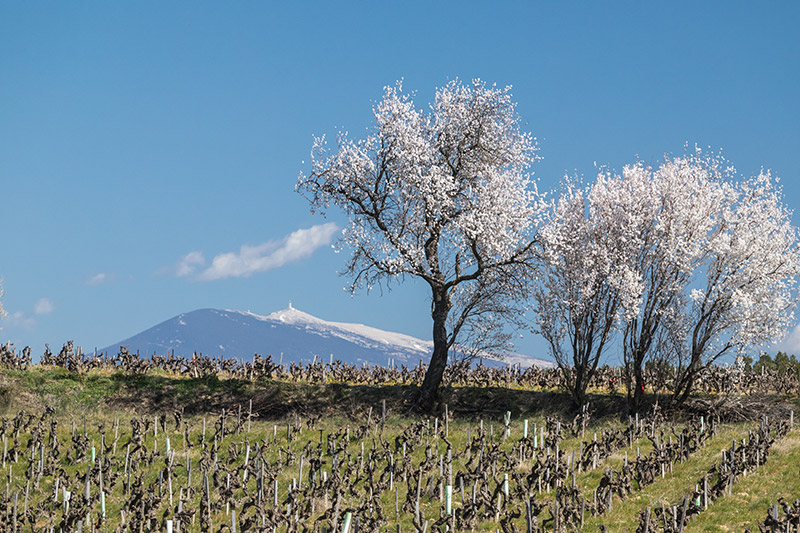 Vaucluse is one of the sunniest counties in France.
Rainfall is rare, but storms can be violent.
Our main characteristic is the Mistral.
It sweeps through our appellation often, and for long periods, with strong gusts of up to 100- 130 km/h! It dries the soils and can snap the vine shoots, but is a precious asset for growing vines.
The Mistral keeps rain away, prevents fog and mist, minimises the risk of spring frosts, and helps us fight many vine diseases such as mildew.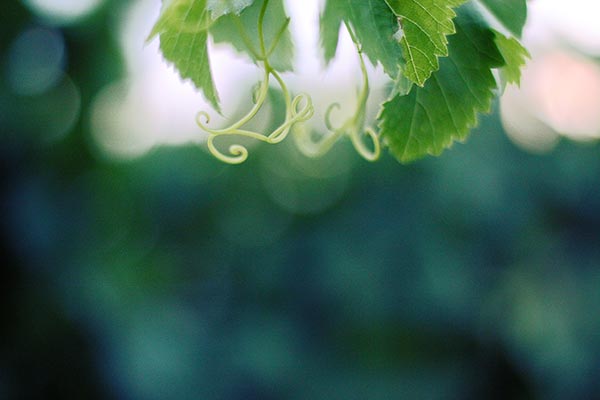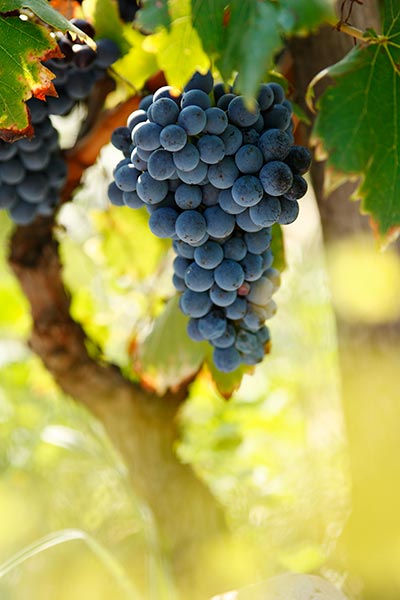 They were selected long ago by our ancestors and are perfectly attuned to our terroir.
In the Châteauneuf-du-Pape appellation, 13 varieties are authorised: Grenache, Mourvèdre, Syrah, Cinsault, Counoise, Muscardin, Picpoul, Bourboulenc, Clairette, Vaccarèse, Roussanne, Picardan and Terret Noir.
For its white wines, Domaine de Marcoux uses:
Roussanne: a native of the northern Rhône Valley, this variety has very long branches that need trellising. Suited to poor but favourably exposed soils, Roussanne enhances and highlights a terroir. It produces structured and complex white wines with ageing potential.
Bourboulenc: a Provençal variety that needs to be trellised because of its weeping habit. Well suited to drought and fairly resistant to mildew, it must be grown on hot, well-exposed plots in order to ripen. The resulting wines have finesse and appealingly tautness.
For its red wines, Domaine de Marcoux uses :
Grenache: of Spanish heritage, it was introduced to France in the Middle Ages. It is sometimes susceptible to coulure. It has an upright habit and must be goblet trained. It has proved highly suited to stony soils like ours. Providing that yields are well controlled, it can produce very fine, aromatic and well-structured wines worth cellaring.
Mourvèdre: also of Spanish origin, and grown on our land since the Middle Ages. With its erect habit, it is delicate and needs to be strictly pruned. Branch-clipping should be avoided to limit grapes from secondary flowering. The variety is suited to chalky soils that are deep enough to allow limited but regular watering. It is a late ripener, and thus suited to the hottest southern areas. It gives high-quality, well-structured wines suitable for cellaring.
Syrah: doubtless a native of Dauphiné or the northern Côtes du Rhône, Syrah, whose slender branches are fragile in the springtime Mistral, needs to be trellised. It is a fast-maturing variety, meaning the fruit set-to-ripening period is very short. It produces deeply coloured, tannic and full-bodied wines.
Cinsault: a southern variety, highly susceptible to grey mould, and which must be grown in poor, dry soils. The large bunches and berries provide high juice yields, and the wines are supple and fruity.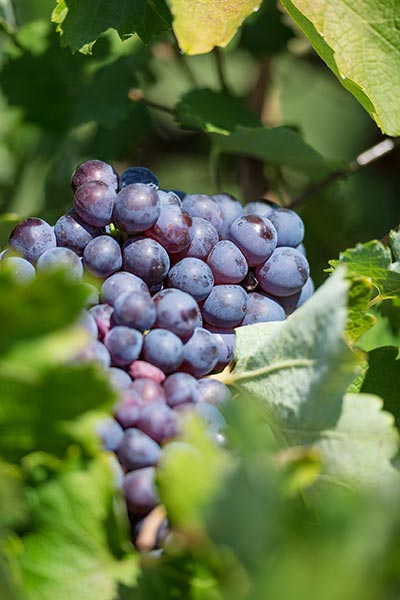 Appellation, terroir, varieties.
Lirac has had Côtes du Rhône cru status since 1947, and is the only one to make all three colours of wine: red, white and rosé. 
Lirac has had Côtes du Rhône cru status since 1947, and is the only one to make all three colours of wine : red, white and rosé.
Located on the west bank of the Rhône, its 750 hectares are shared by four municipalities : Lirac, Saint-Géniès-de-Comolas, Roquemaure and Saint Laurent des Arbres.
The appellation's soils, depending on the area, are made up of quartzite pebbles (silica-cemented quartz) from the Alps and smoothed by the Rhône; limestone scree; and sands and gravels from the late Tertiary Period.
The red-wine varieties are : Grenache, Mourvèdre, Syrah, Cinsault and Carignan.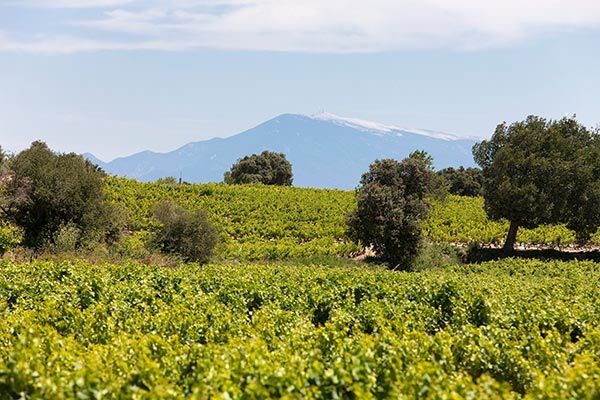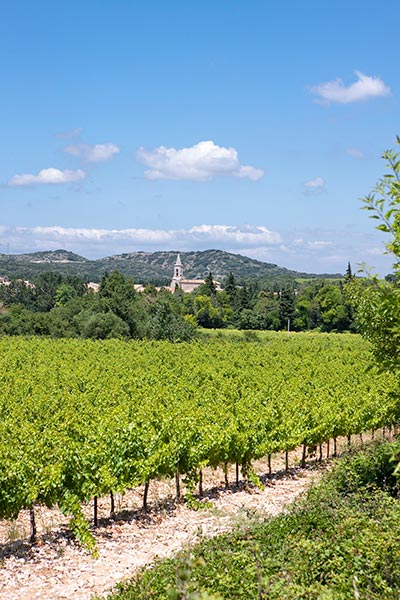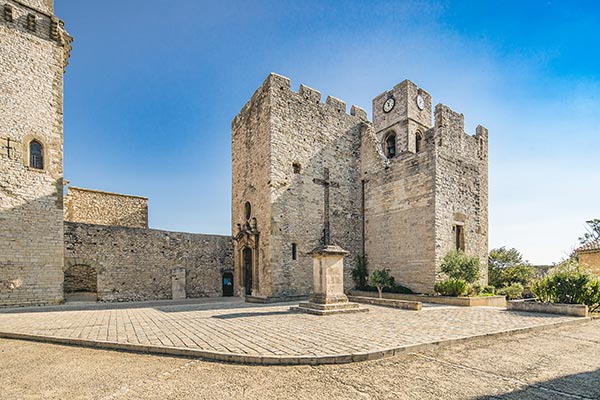 Domaine de Marcoux, la Lorentine
Owned solely by Domaine de Marcoux since 2010, and since then cultivated organically, our estate covers nearly 8 ha of soils rich in sands, gravels and limestone scree.
Clustered in the coomb of Balouvière, near the village of Saint Laurent des Arbres, and snugly sheltered amid the garrigue, Grenache, Syrah and Mourvèdre vines thrive quietly – a tranquillity only troubled by the wild boars that are plentiful in these parts; when the grapes ripen, they need to be protected by an electric fence!
The crop is hand picked, allowing a first sorting at the vine, and the bunches are transferred to the cellar in 50 kg crates. They are sorted again on tables, then destemmed and crushed.
The wines are vinified similarly to our Châteauneuf-du-Pape cuvées: no yeast addition, temperature-controlled alcoholic fermentation, and daily pumping-over. The wine is matured in concrete vats and foudres, then bottled about 15 months after the harvest.