2017 at Domaine de Marcoux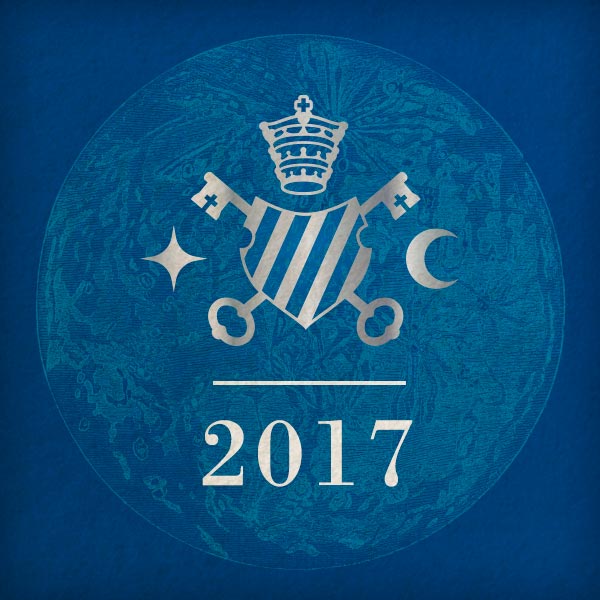 Autumn 2016 was fine and calm – typical weather for the season, dotted by showers, especially in late November.
Winter slowly settled in, but in mid-January there was a very chilly episode with a strong Mistral. A dusting of snow fell on 25 January; followed the day after by rain that caused black ice on the roads – something we rarely see in these parts. In the space of a morning, ice covered the vines – a beautiful sight.
Spring came quickly. The vines have already grown plenty when, on 21 April, we had a cold snap: 0°C in the morning. This had no impact in Châteauneuf-du-Pape, but many vineyards froze in the Côtes du Rhône and the Ventoux. Indeed, Mont Ventoux was covered in snow – it's very unusual to see green vines with a snowy summit in the background.
Maybe this was why the Grenache suffered coulure (the flowers don't develop fruit); and the other varieties didn't develop many clusters either.
We were facing a tiny crop.
The summer heat arrived as early as May, and there were some very hot episodes in June (37.6°C on 25 June), July and August. (40°C on 4 August) often accompanied by the Mistral. In August, it blew for a dozen days, with gusts up to 80 km/h.
The vines planted last winter needed several waterings – a very time-consuming task.
Summer is always cicada season, but this year there were thousands of them. When walking amid the vines, we had to duck to avoid them! And they got into the cars through open windows… We had singing in stereo everywhere!
Sun, Mistral, no rain: everything was dry and scorched: the slopes, ditches, scrubland and also the vineyards, where there wasn't a blade of grass…
The combined rainfall in June, July, August, September and October: 38.1 mm – a miserably small amount. Only on 1 November did we get some proper rain (48 mm)!
The vines withstood the drought to varying degrees, depending on the district; but as the small crop was small, the grapes didn't suffer too much. They were ripening fast, especially the white-wine varieties and the Syrah.
We were forced to cut short our holidays. We had been due to come home on 24 August, when we actually harvested our Roussanne – the earliest date on record. We continued on the 28th with the Syrah, and then we waited. The first Grenache bunches were picked on 11 September, and we took our time, through to the finish on 28 September.
Not only were there few clusters, there was little juice in the berries – which would further reduce quantity. But the grapes were of perfect quality. Despite the year's weather, the grapes did not roast as in 2003; and they kept their frame and freshness.
This vintage was all about quality, not quantity.
Attractive colours, velvety well-integrated tannins, freshness, and an appealing texture on the palate: 2017 would be an excellent vintage, rich and well balanced.